Florida A&M University
Florida A&M University of FAMU, is een openbare, historisch zwarte universiteit in Tallahassee, Florida. De officiële naam is Florida Agricultural and Mechanical University. Florida A&M University werd gebouwd op de hoogste van zeven heuvels in Tallahassee. Ze werd geopend op 3 oktober 1887.
Het is een van de grootste historisch zwarte universiteiten in de Verenigde Staten, in aantal studenten. Zij verleent bachelor-, master- en doctoraatsdiploma's.
De hoofdcampus van FAMU ligt in Tallahassee. Het ligt dicht bij het Capitool van de Staat en de campus van Florida State University. De universiteit heeft ook campussen in Orlando, Miami, Jacksonville, Tampa en Crestview.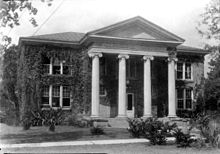 De Carnegie bibliotheek, rond 1930


Nationaal historisch district
Florida Landbouw en Mechanisch College Historisch District

U.S. National Register of Historic Places

U.S. Historisch district

Locatie

Tallahassee, Florida

Gebied

370 acres (1,5 km2)

Gebouwd

1907

Architect

William Augustus Edwards; Rudolph Weaver, et al.

Architecturale stijl

Koloniale heropleving, Klassieke heropleving

NRHP-referentie #

96000530

Toegevoegd aan NRHP

9 mei 1996
De Florida A&M Tallahassee Campus telt 132 gebouwen die verspreid liggen over 420 acres (1,7 km2). Een deel van de campus is opgenomen in het U.S. National Register of Historic Places. Dit wordt het Florida Agricultural and Mechanical College Historic District genoemd. Het werd op 9 mei 1996 op de lijst geplaatst.
De wijk ligt in het centrum van de campus. Het is opgenomen in het National Register en beslaat 370 acres (1,5 km2). Het omvat 14 historische gebouwen en 1 object. Eén campusgebouw, de oude Carnegie bibliotheek, is apart opgenomen in het National Register.
Op 18 april 2012 plaatste de AIA's Florida Chapter Lee Hall aan de Florida Agricultural & Mechanical University op haar lijst van Florida Architecture: 100 Years. 100 plaatsen.