Kansas Department of Wildlife, Parks and Tourism
Het Kansas Department of Wildlife, Parks, and Tourism (KDWPT) is een staatsagentschap op kabinetsniveau. Het wordt geleid door een secretaris van Wildlife and Parks, die door de gouverneur van Kansas wordt benoemd. Het bureau van de secretaris is gevestigd in Topeka. Een zeven leden tellende tweepartijdige commissie, die ook door de gouverneur wordt benoemd, adviseert de secretaris en keurt voorschriften goed over openluchtrecreatie en vis en wild in Kansas. Het KDWPT heeft ongeveer 420 voltijdse werknemers in vijf divisies: Executive Services, Administrative Services, Fisheries and Wildlife, Law Enforcement, en Parks. Bij volledige bezetting heeft de afdeling Rechtshandhaving van het KDWPT (Kansas Game Wardens) 83 posten.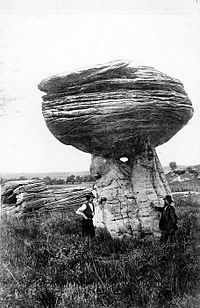 Rotsformatie in Mushroom Rock State Park, Kansas (1916)


Geschiedenis
In 1905 werd in de staat Kansas begonnen met het opstellen van wetten voor vis en wild in de vorm van het Kansas Fish and Game Department. Op 1 juli 2011 werd de Division of Travel and Tourism van het Kansas Department of Commerce overgeheveld naar het Kansas Department of Wildlife and Parks. Het agentschap staat nu bekend als het Kansas Department of Wildlife, Parks, and Tourism.