Hal Needham
Hal Brett Needham (6 maart 1931 - 25 oktober 2013) was een Amerikaanse stuntman, filmregisseur, acteur en schrijver. Hij is bekend van de regie van de komediefilm Smokey and the Bandit en The Cannonball Run uit 1971. Needham ontving de Taurus World Stunt Awards Lifetime Achievement Award.
Needham werd geboren op 6 maart 1931 in Memphis, Tennessee. Hij groeide op in Little Rock, Arkansas en in St. Louis, Missouri.
Needham was getrouwd met Dani Crayne van 1981 tot zij scheidden in 1996. Daarna was hij getrouwd met Ellyn Wynne Williams van 1996 tot zijn dood in 2013. Needham overleed op 25 oktober 2013 aan kanker in Los Angeles, Californië, 82 jaar oud.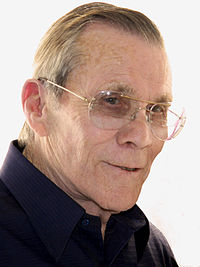 Needham in juli 2011