Carl Reiner
Carl Reiner (20 maart 1922 - 29 juni 2020) was een Amerikaanse stand-up comedian, acteur, regisseur, producent, schrijver, stemkunstenaar en komiek. Hij won negen Emmy Awards en één Grammy Award tijdens zijn carrière. Reiner's belangrijkste stemrol is die van Sarmoti uit Father of the Pride.
Vroege leven
Reiner werd op 20 maart 1922 geboren in de Bronx, New York, als zoon van Irving, die horlogemaker was, en Bessie (geboren Mathias) Reiner. Zijn ouders waren Joodse immigranten, zijn vader uit Roemenië en zijn moeder uit Oostenrijk.
Huwelijk en familie
Hij was getrouwd met Estelle Reiner (geb. Lebost, 1914-2008). Zij kregen samen drie kinderen: acteur-regisseur Rob Reiner (geboren 1947), schrijfster Annie Reiner (geboren 1957) en acteur-regisseur Lucas Reiner (geboren 1960).
Als scenarioschrijver
The Thrill of It All

(1963)

The Art of Love

(1965)

Enter Laughing

(met Joseph Stein, 1967)

The Comic

(met Aaron Ruben, 1968)

Dead Men Don't Wear Plaid

(met

Steve Martin

en George Gipe, 1982)

The Man with Two Brains

(met Steve Martin en George Gipe, 1983)

Bert Rigby, You're a Fool

(1989)
Als directeur
Enter Laughing

(1967)

The Comic

(1969)

Where's Poppa?

(1970)

Oh, God!

(1977)

The One and Only

(1978)

The Jerk

(1979)

Dead Men Don't Wear Plaid

(1982)

The Man with Two Brains

(1983)

All of Me

(1984)

Zomer verhuur

(1985)

Zomerschool

(1987)

Bert Rigby, You're a Fool

(1989)

Sibling Rivalry

(1990)

Fatal Instinct

(1993)

That Old Feeling

(1997)
Speelt
Something Different

(1967)
Televisie
Uw Show der Shows

(1950-54)

Caesar's Hour

(1954-1957)

Sid Caesar Invites You

(1958)

The Dinah Shore Chevy Show

(1959-1960)

The Comedy Spot

(1960)

The Dick Van Dyke Show

(1961-66, ook maker)

The Judy Garland Show

(1963)

The Sid Caesar, Imogene Coca, Carl Reiner, Howard Morris Special

(1967)

The New Dick Van Dyke Show

(1971-1974)

Lotsa Luck

(1973) (ook Schepper)

The Alan Brady Show

(2003)

The Dick Van Dyke Show Revisited

(2004)

De Bernie Mac Show

(2001-2006)

Hot in Cleveland

(2010-heden)

Parks and Recreation

(2012)
Onderscheidingen en onderscheidingen
Primetime Emmy Awards
1954: Beste Serie Ondersteunende Acteur voor "Your Show of Shows" NBC - Genomineerd

1956: Beste acteur in een bijrol voor "Caesar's Hour" NBC - Nominee

1957: Beste Bijrol van een Acteur voor Caesar's Hour NBC - Winnaar
1958: Beste doorlopende bijrol van een acteur in een dramatische of komische serie voor Caesar's Hour NBC - Winnaar

1962: Outstanding Writing Achievement in Comedy voor

The Dick Van Dyke Show

CBS - Winnaar

1963: Outstanding Writing Achievement in Comedy voor The Dick Van Dyke Show CBS - Winnaar
1964: Outstanding Writing Achievement in Comedy or Variety voor The Dick Van Dyke Show (samen met Sam Denoff en Bill Persky)CBS - Winnaar
1965: Outstanding Program Achievements in Entertainment voor The Dick Van Dyke Show CBS - Winnaar

1966: Speciale Classificatie van Individuele Prestaties voor stemmen in "Linus The Lionhearted" CBS - Genomineerd

1966: Outstanding Comedy Series voor The Dick Van Dyke Show CBS - Winnaar
1967: Outstanding Writing Achievement in Variety voor The Sid Caesar, Imogene Coca, Carl Reiner and Howard Morris Special (samen met

Mel Brooks

, Sam Denoff, Bill Persky en Mel Tolkin) CBS - Winnaar

1995: Uitstekende gastacteur in een komedieserie voor

Mad About You

: "The Alan Brady Show" NBC - Winnaar
Anderen
Grammy Award nominatie, 1960, (2000 Years met Carl Reiner en Mel Brooks)

Grammy Award

(De 2000 jaar oude man in het jaar 2000)

Verkozen tot Emmy Award Hall of Fame

Grammy nominatie voor beste gesproken woord album, 2001 (Letters from the Earth: Uncensored Writings from Mark Twain)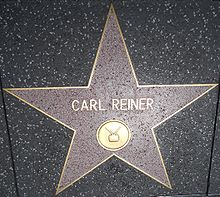 Ster op de Hollywood Walk of Fame op 6421 Hollywood Blvd