Fall Out Boy
Fall Out Boy (vaak afgekort tot FOB) is een alternatieve rockband, die muziek maakt, uit Chicago, Illinois, USA. De leden zijn Pete Wentz (bassist), Patrick Stump (zang), Andy Hurley (drums) en Joe Trohman (gitaar). Ze hebben succesvolle liedjes geschreven, waaronder "Thnks fr the Mmrs", "Sugar, We're Goin Down" en "Dance, Dance". Hun muziek is meestal zoals de pop-punk stijl, oftewel het genre, van de muziek. De band kreeg de naam "Fall Out Boy" van een personage dat in één aflevering van The Simpsons verscheen. "Sugar, We're Goin' Down" was de eerste single van hun album From Under the Cork Tree. Het heeft zijn hoogtepunt bereikt op nummer acht in de Billboard charts. De tweede single was "Dance, Dance", die een groot succes werd in de VS. De derde single was "A Little Less Sixteen Candles, a Little More Touch Me." Hun derde album is Infinity on High en het had veel succes over de hele wereld. Twee nummers van het album waren zeer populair over de hele wereld. Het zijn "This Ain't a Scene, It's an Arms Race" en "Thnks fr th Mmrs". De titel van het tweede nummer is "Thanks for the Memories" zonder de klinkers, wat bedoeld is om te lijken op een sms. De derde single van Infinity on High heet "The Take Over, The Breaks Over". De vierde is "I'm Like a Lawyer With the Way I'm Always Trying to Get You Off (Me & You)". Hun vierde album Folie à Deux, werd uitgebracht op 16 december 2008. "I Don't Care" was het eerste nummer van het album. Eind 2009 nam de band een pauze. Patrick Stump ging solo en bracht zijn debuutalbum SoulPunk uit op 18 oktober 2011. Zijn EP Truant Wave werd uitgebracht op 22 februari 2011. Bassist Pete Wentz vormde de electropop band Black Cards. Gitarist Joe Trohman en Andy Hurley vormden een rockband The Damned Things met mensen van Anthrax en Every Time I Die.
Fall Out Boy kwam uit de lucht vallen in 2013, met een nieuwe single "My Songs Know What You Did in the Dark (Light 'Em Up)" en een album Save Rock and Roll, samen met een ondersteunende tour, Ze gingen op de Save Rock and Roll Arena Fall Tour september 2013 met collega-rockband Panic! in de Disco ter ondersteuning van het album ook. In september 2014 brachten ze een nieuwe single uit, genaamd "Centuries".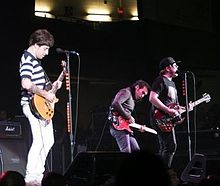 Fall Out Boy op het podium.


Discografie
Fall Out Boy's Evening Out met je vriendin

(2003)

Breng dit naar uw graf

(2003)

Van onder de kurkboom

(2005)

Infinity on High

(2007)

Folie à Deux

(2008)

RedRock and Roll

(2013)

PAX AM Dagen

(2013)

American Beauty/American Psycho

(2015)

Make America Psycho Again

(2015)

MANIA

(2018)